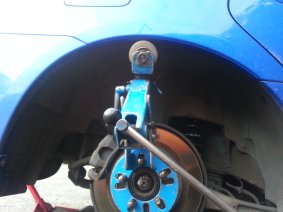 Canterbury Guard Rolling and Flaring is a mobile guard rolling/lipping service that will travel to your home or workplace to meet your requirements. We specialize in classic, track and unusual vehicles. Our Guard Rolling and Flaring service is based in the Christchurch metro area, but we are willing to travel between Ashburton to Amberley to help you. We are a cost effective mobile service, no fuss professional. We lip roll your guards without, in most cases, having to repaint them. We can also, if you wish, flare your guards as an additional service. This can be done on almost every car, old or new, large or small, everyday runabout to high quality Show, whether the car has a 4 or 5 stud pattern.
"Give your car the flair it deserves" Steve - Owner/Manager
Our mobile service will save you $$$$ in tyre expenses. Not only do we have our private customers, but we are well known within the trade industry. Many of our regular trade customers recommend us after we have completed work for them because they are so satisfied with what we have done.
You need us IF any of the following four possibilities applies:
You've lowered your car
Your car has failed to pass a WOF due to tyre rub
Your tyres are being cut up by the lips (which are the folded-in panel edges) on your guards
Your tyres and rims are too big to clear the guards
When the car is too low or when the tyres and rims are too big, we roll the inner lip of the guard by using a specialised guard rolling tool. We also use a heat gun to avoid cracking the panel paint or buckling the panel.

Our service is provided 7 days a week from 10 am till late. We respond very flexibly to customers' specific needs and can accommodate most requests. For further information or a no obligation quote, contact us today.
Our Workmanship Guarantee
If you vehicle suffers from guard rubbing after we have done the job, we will in most cases come back (FREE OF CHARGE) to rectifie any rubbing problems. Does not include flaring if you only paid for a lip roll, but would be flared at a discounted price.